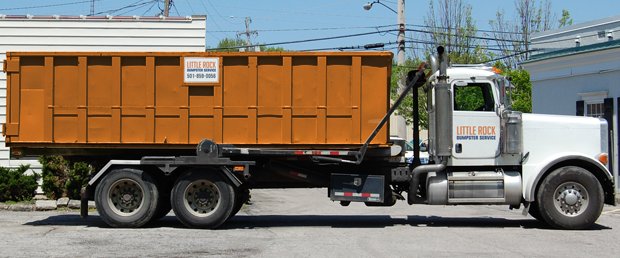 Little Rock Dumpster Service has you covered when it comes to a local Little Rock dumpster rental. Your waste disposal needs will be covered when you rent with us. We are here to provide you with the best customer service and great, affordable prices. Our terms and conditions will make your waste disposal project more convenient. Every dumpster rental comes with an included 10-day rental period. If you need the dumpster longer, there is a $10 fee for every day extra.
We base our rental period around the best interest of our customers, allowing them more time for when things come up and you need the dumpster longer than you expected. We understand that which is why we let our customers keep the dumpster as long as they want. For a convenient dumpster rental, choose Little Rock Dumpster Service.
Easy Dumpster Process for Everyone
Automatic 10-day rental period. Every day after is $10 a day.
Variety of dumpster sizes to choose from.
Front loading door for easy disposal.
Open for orders Monday through Friday!
Commonly Asked Questions
What size dumpster should I rent? At Little Rock Dumpster Rental, we offer multiple dumpster sizes to choose from. These sizes include 20 yard, 30 yard, and 40 yard containers. The size of the project will determine the dumpster size. If you are unsure of the dumpster size you should rent, any one of our customer service reps. will be happy to help.
Are there materials that are not allowed in the dumpster? There are many different materials that are allowed to be thrown in our dumpsters, however, there are a specific materials that are prohibited. These materials include car batteries, tires, wet paints, rail road ties. Any flammable or hazardous materials are also prohibited. If you're not sure about certain items you are throwing away, please ask one of our representatives or consult with Little Rock's Solid Waste Department.
Do I have to be there when the dumpster is delivered? One thing our customers love about renting with us is that they don't have to be on location the day of the deliver. As long as you give specific placement instructions, you don't have to be on location. If the instructions are too complicated to describe over the phone then it's a good idea to have someone there. However, if you do want to be there when the dumpster is delivered, that's okay too!
What about for pickup? Same goes for pickup. You don't have to be at the location as long as the dumpster is properly filled.
Is there a correct way to fill a dumpster? Actually yes. We ask that your debris is properly spread throughout the dumpster. This means that one end of the dumpster isn't higher than the other. This is so the weight is distributed evenly. The driver won't be able to pick up your dumpster if it is not properly loaded and secured. This also applies for overloading the dumpster. If there is debris filled above the top of the dumpster you will have to remove them until they are no long over the top.